Last Updated on November 16, 2023 by Emmanuel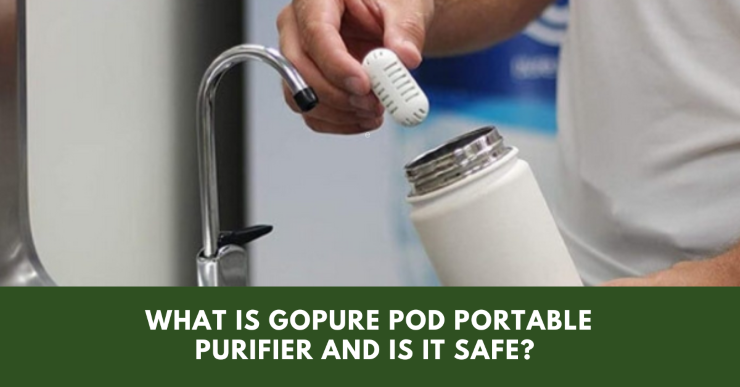 Many wordwide need drinking water to lead a healthy life, but several reasons prevent some people from having access to this health essential, which harms them.
Faced with this challenge, several solutions for purifying water to make it safe for healthy use present themselves, including Gopure Pod.
So what is the Gopure Pod Portable Water Purifier, and is it safe? Hang on because we examine this water purification system to help you decide if its use is worth it or search for other alternatives.
What Is GOPure Pod Water Purifier?
Kent Atherton invented GOPure Pod after realizing tap waters were unsafe due to the crumbling infrastructures that deliver it to households.
Atherton had just discovered contaminants in the water reserves, including arsenic, pesticides, lead, etc., gaming many's health and well-being.
It is how he developed this purifier system to make water safe for many families, including his four children's household.
The GOPure Pod water purification system helps families protect themselves from contaminated water by purifying it quickly.
Besides, its inventor, Kent, has significantly contributed to preserving the oceanic environment because GOPure Pod users and those using similar systems no longer throw away millions of plastic bottles as it was in the past.
Several tests were conducted conclusively to ensure the GOPure Pod's effectiveness as a practical solution to purify water for safe use.
How Does GOPure Pod Portable Water Purifier Work?
As the world's first portable water purification system, GoPure Pod uses revolutionary technology to make drinking water safe.
It works like a real "magnet" that captures impurities, toxins, and contaminants in the water and eliminates them incredibly.
You no longer have to worry that your water contains toxic substances like chlorine, arsenic, mercury, lead, or fluoride, which the system suddenly eliminates.
Unlike standard water filtration systems, millions of diatoms power the GoPure Pod's ceramic core to create pores that filter impurities quickly.
By filtrating your water, the GOPure Pad injects some trace elements that naturally improve its smell and taste to make it more drinkable.
Using GOPure Pod is as simple as child's play; place the device in any utensil containing filter water to obtain pure and delicious water in minutes.
Not only does your family benefit from safer water for healthy health, but you also get a refreshing, crisp, chlorine-free drink.
Incredibly, GOPure Pod removes all substances your tap and other water sources may contain to make it more drinkable and allow you to enjoy a better life.
Furthermore, this device is compact and lightweight to slip into your pocket or purse and bring when you travel to enjoy purified water anytime.
Where to Buy the GOPure Pod Water Purifier?
The manufacturer's online store is the best source for buying these innovative water purifiers; you avoid counterfeits and price increases by intermediaries.
Customers in the United States receive free shipping when their purchases are over one hundred dollars or subscribe for the same amount.
The supplier ships all orders within twenty-four hours; USPS delivers clients' packages in three to five business days unless unforeseen circumstances arise.
International customers can also order these water purification devices if they reside in one of the thirty countries where the GOPure Pod company ships.
At the checkout, the system will add possible duties and taxes to the purchase price, typically minimal, considering these gadgets' value.
International packages typically reach the destination in at least five business days by express shipping with no customs clearance hassle, regardless of where you reside.
Check the details in a shipping confirmation email sent by the supplier to track your package from dispatch to arrival.
You can also return your order within thirty days if you are unsatisfied with it for a refund or a default for exchange.
The GoPure Pod Water Purifier's Pros and Cons.
Pros:
Rigorous quality control ensures the GOPure Pod water filter is safe, so it can't harm your health.
Besides, the system would reduce up to two thousand single-use plastic bottles to mitigate their ocean damage, a plus for environmental enthusiasts.
GOPure Pod also stands out from other water purification systems with its powerful and advanced ceramic PuriBloc technology that filters your water quickly.
Many also like bringing their gadget anywhere to access safe water anytime due to the device's portability, lightweightness, and compactness.
The GOPure Pod's other benefits include:
It is manufactured in the United States, with stringent standards to increase safety and inspire user confidence.
The supplier delivers these devices throughout the United States and around thirty other countries so that many can access them.
A thirty-day money-back guarantee proves the manufacturer's confidence; you can return the gadgets within this timeline for a refund if they don't satisfy you.
Exceptional customer support quickly responds to all your requests and questions.
Many also leverage the Soul Insole Shoe Bubble orthotic insoles to soothe different types of pain in their feet and improve their mobility.
Cons:
Poor handling can damage fragile ceramic materials featured in these gadgets, reducing their efficacy; care for yours as it should.
Only people in thirty countries can access GOPure, while many others globally use unsafe water, leading to several health issues.
We hope this GoPure Pod water purifier system review provides helpful information, but we are not done yet.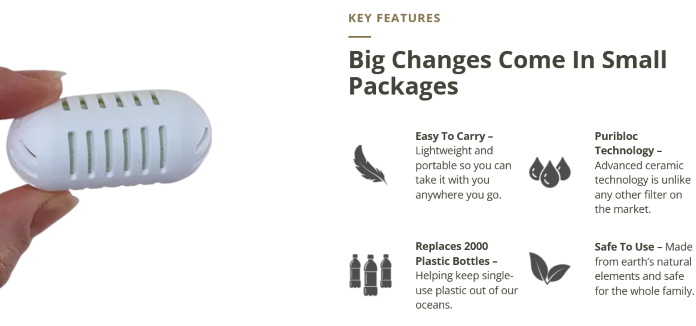 Is the GOPure Pod Water Purifier Safe?
Successful safety checks and tests during manufacturing ensure that each part meets rigorous safety standards to inspire user confidence.
Besides, a patented Puribloc technology with a highly porous ceramic core containing millions of diatoms empowers GoPure Pod to filter and remove impurities in water effectively.
Designers also use earth-derived materials to make the GoPure Pod device eco-friendly and ensure its safety, and the device features a USA Made Label for increased trust.
Those suffering from anxiety, stress, and sleeping issues can also check the Chill Pill handheld device, which helps to treat them efficiently.
What Do Users Say About the GoPure Pod Water Purifier?
The GoPure Pod gadget satisfies its users by providing them access to clean drinking water if we consider the gathered reviews and testimonies.
Users also appreciate these devices' lightweight and compact designs, which makes them easy to bring anywhere to continue having clean water access.
Positive reviews also taught us how the GoPure Pod devices help safeguard the environment by reducing plastic water bottles thrown into the oceans.
Our Final Thoughts.
The GOPure Pod patented Puribloc technology effortlessly transforms tap or potentially contaminated water into a refreshing pH-balanced drink.
Many also appreciate how this gadget is straightforward to use to continue accessing safe water even in the worst conditions; it is an essential companion tool wherever you are.
That's all we can say about the GOPure Pod Portable Water Purifier, and if it is safe, we wish you its better use.