Last Updated on November 4, 2023 by Emmanuel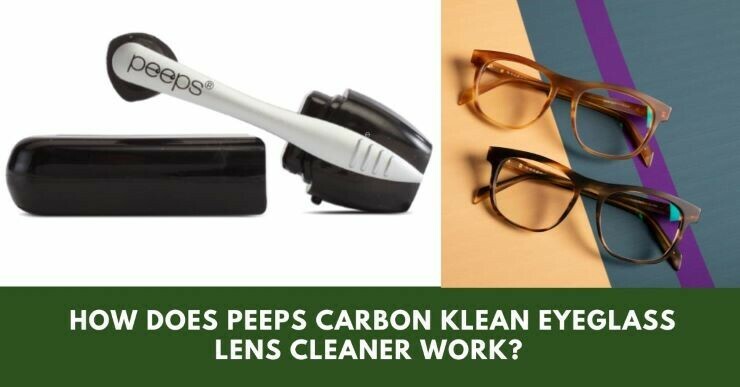 Peeps Carbon Klean Eyeglass Lens Cleaner's aerospace technology helps eyeglass wearers maintain these accessories better for improved vision wherever they are.
For many, this tool is an effective alternative to traditional fiber cleaning cloths, but how does the Peeps Carbon Klean Eyeglass Lens Cleaner work, would you ask?
Let's review the Peeps Carbon Klean innovative tool's outstanding technological prowess and benefits; you will then decide if it is worth adding to your daily essentials.
What Is Peeps Carbon Klean Eyeglass Lens Cleaner?
Peeps Carbon Klean Eyeglass Lens Cleaner meticulously cleans your glasses, sunglasses, and reading glasses to make them more transparent and improve your vision.
Featuring unique engineering, Peeps compact devices target stains right down to your glasses' small corners; they become more transparent.
Invisible carbon cleaning compounds clean your lenses more impeccably than traditional methods, which don't suitably remove micro dust.
Traditional papers and clothing items do not adequately remove fingerprints, oily residue, and other stains from your eyeglass lenses.
Peeps cleaners' performance is five hundred times more effective in defeating greasy stains stubbornly adhering to your lenses.
You no longer have to worry about residue from dust particles, fingerprints, or facial oils; they all disappear instantly.
Peeps lens cleaning technology has been tested globally as the safest currently available in the industry.
Even the NASA International Space Station uses this lens cleaner, testifying to the product's effectiveness and confidence.
It proves that Peeps works even in the most critical environments where every speck of dust counts; this device impeccably delights users.
Peeps Carbon Cleaner Key Specifications.
Lightweight and portable Peeps devices weigh only twelve ounces, making them suitable carry-along accessories for eyewear maintenance.
1 × 2 × 5.25 inches dimensions ensure your device can fit comfortably in a purse, pocket, or eyeglass case.
Peeps devices are also user-friendly with an indefinite shelf life; you don't regularly spend on them.
Classic black, vibrant blue, sleek electroplated, and other color finishes allow you to choose your favorite options.
Customers rate Peeps lens cleaners 4.97 out of 5, showing the products are highly trusted and recommendable to new users.
The supplier demands $19.99 for a single Peeps cleaner, while three-packs are more savings at $50.98.
Those who want to clear out mucus from the airways can also check Airphysio; this device can improve overall health and well-being.
How Does Peeps Carbon Klean Eyeglass Lens Cleaner Work?
The Peeps Device includes carbon molecules that clean lenses on a microscopic level to meticulously remove dirt, dust, oils, grime, and more.
Its cleaning pads also benefit from the same aerospace technology to clean your lenses' entire surface practically and durably.
By applying carbon compounds evenly across the entire surface for a deep clean, this tool doesn't leave dirt marks like traditional methods.
Peep's ionic technology produces a positive charge on the lenses to clean them effectively.
Activating the device creates a positive charge and a precise effect to trigger the cleaning process.
The positive charge attracts all dirt and pollutants to eliminate them automatically.
Where to Buy Peeps Eyeglass Cleaners?
The manufacturer's online store is the best source for purchasing Peeps glasses cleaning tools; it ensures you receive authentic devices affordably.
You can also buy Screen Klean devices to clean your computer screens, tablets, iPads, and other touchscreen devices.
The Screen Klean tools fight against stubborn fingerprints and oily residue impeccably as Peeps does your lenses.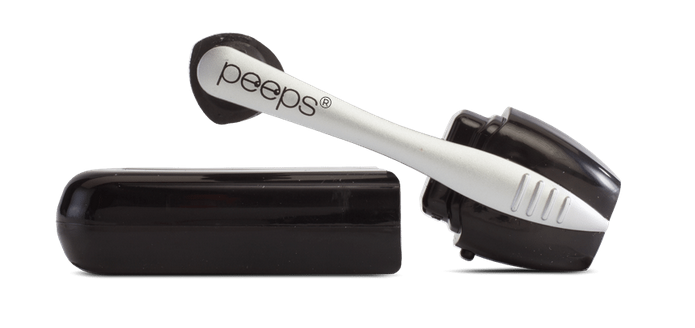 You can also purchase replaceable cleaning pads to ensure your Peeps or Screen Klean cleaner functions appropriately.
If you are unsatisfied with your purchase, you can return the items in the original condition as received (unopened and unused) for a refund.
Return them with the purchase invoice; the supplier handles the request quickly to issue refunds within fourteen working days.
Who Makes Peeps Eyeglass Cleaners?
Since 2014, CarbonKlean LLC has produced life sciences, mobile, optical, and other highly-rated cleaning items.
This company, headquartered in Powell, Ohio, the United uses carbon-cleaning technology to develop sustainable devices and glasses.
Its carbon technology cleans glasses and touch screens safely and efficiently, even the most invisible dirty, unlike sponges or clothes.
Peep eyeglass cleaners include carbon compounds that effectively remove oils, smudges, and dust from glasses without damaging these eye accessories.
How Trustworthy are Peeps Carbon Klean Devices?
Rigorous testing and evaluation allowed Peeps Carbon Klean devices to obtain relevant certifications; they comply with high safety standards.
Besides, customers testify that these products are more efficient than those used to clean lenses and other touch screens.
Many users praise these essential devices' effectiveness for routine eyeglass maintenance; they suitably keep lenses spotless and stain-free.
Other prominent users like NASA have endorsed Peeps Cleaners, which makes these products more reliable and recommendable, like Zquiet anti-snoring mouthpieces.
Final Thoughts.
On how Peeps Carbon Klean Eyeglass Lens Cleaner works, these products have revolutionized our glasses' cleaning while being durable and affordable.
Peeps and ScreenKlean developers have equipped them with advanced carbon-cleaning compounds that easily remove dirt, oils, and stains.
Ionic technology induces positive charges, which attract pollutants to eliminate them automatically than chemicals and disposable wipes.
Users appreciate how these devices clean glasses five hundred times more effectively than traditional methods, a notable advantage in the care of our lenses.
Moreover, Peeps and ScreenKlean cleaners' durability and environmental friendliness suit protecting the planet; the world's safety worries many.