Last Updated on November 3, 2023 by Emmanuel

Although simple in concept, the golf tee is an essential tool as the basis of a powerful, precise, and strategic game of golf, but some need to learn this.
Therefore, this article examines what Flight Path Golf Tee is and how it works; we aim to help newbies to this tool get valuable information to decide if it is worth improving their game.
You will learn how this innovative golf accessory can improve players' performance, as it has already done for one of the champions; we will let you know at another point.
What is Flight Path Golf Tee?
Passionate golfers and engineers designed the Flightpath Golf Tee as a tool that supports the golf ball before the first shot on every hole.
This golf tool's aerodynamics improve the ball's launch powerfully with precision while minimizing resistance at the point of contact with the ball.
Unlike traditional golf tees, Flightpath features a strategic and aerodynamic design; its contoured heads or supports reduce the contact area with the ball.
Besides, its design reduces drag and the potential for spin interference to promote a more consistent and controlled ball launch.
Flightpath is also more durable than older tees, thanks to the environmentally friendly polymer materials it is made from.
You can use this tool several times without the risk of breaking it; polymer ensures its resistance to the training force.
Flightpath Golf Tees Features.
Advanced Polymer Technology.
Advanced technology coupled with carefully selected resistant polymer materials provides these golf tees with an exceptional molecular structure to resist impacts.
The polymers in these tees sufficiently withstand the golf club swing's repeated force while maintaining their form and function.
This exceptional technology allows Flightpath tees to be light and powerful enough; these golf tools can resist breakage and bend effectively.
Engineered Diamond Shape.
The Flightpath golf tees' unique diamond shape provides these tools with aerodynamics and stability to use them properly.
Many golfers agree that an engineered diamond shape minimizes the contact area with the ball to reduce drag and allow for a cleaner shot.
Besides, the precisely calculated diamond contours provide optimal ball support with minimal surface contact to maintain ball trajectory and speed at impact.
Women who need personal protection due to the nature of their activities can also check the affordable yet efficient Hootie safety alarm device.
Arrow Point Patented Head.
Look at the top of these tees to admire their patented arrowheads to help you hold the golf ball safely before you swing it.
This arrowhead reduces the ball's contact points, resulting in interference minimization and potential alterations in a spin when you throw the ball.
Moreover, the Flightpath patented arrowhead allows you to place the ball consistently to achieve repeatable bullet flight and distance; many golfers appreciate this feature.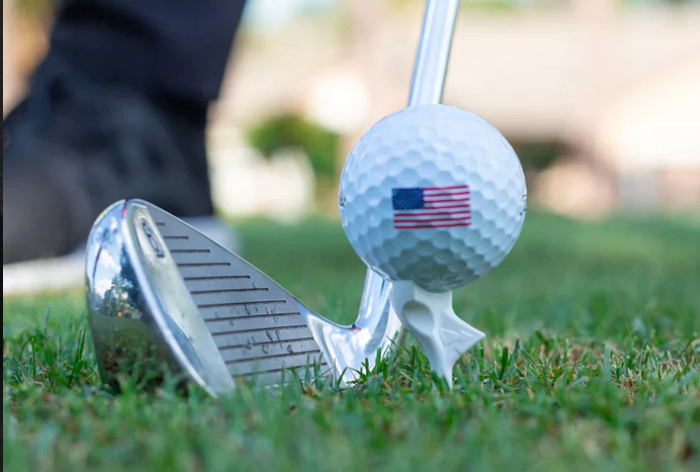 Other Essentail Features.
The ball spin is another FlightPath tees helpful feature, which rotates backward to reduce distance when you hit the ball with drivers and irons.
A patented FlightPath design decreases the ball spin without trading space for precision.
Furthermore, friction between the ball and the tee adequately minimizes frictional resistance, guaranteeing a consistent and smooth flight path.
A three-pack of Flight Path Tees costs a hundred dollars, but it's worth the price; they typically withstand up to a hundred hits without breaking.
How to Use Flightpath Golf Tees?
The supplier's online store lists differnet Flight Path tees to pick from what suits your golfing sports the most.
Pick your tee and hold it at the appropriate height by aligning its crown to where the ball's bottom curve will rest.
Push the tee until the crown base is at the soil level; the ball must sit atop the tee with minimal contact around the ball's equator.
Check if the directional markers align with your intended ball flight path.
Set the ball onto the tee and check if it is stable without being tilted in any direction.
These are a few tips for using your Flight Path tee correctly; watching the YouTube video below gives you a better understanding of its use.
Where to Buy Flight Path Golf Tees?
You can buy Flightpath golf tees on the manufacturer's online store, which displays the entire range with all the details to help customers understand their functionalities better.
It ensures you buy the original products at the best price without intermediaries, who can add their margins to increase the price.
The brand manufactures all U.S.-patented Flightpath Golf tees and ships them from Florida nationwide.
They don't provide information on whether these products are available to international customers.
Your package will arrive at the address indicated within three to five days. If you are unsatisfied with the equipment, return the box for an exchange or a full refund.
Depending on your convenience, you can also order from other online retailers or physical stores that sell these kinds of products.
Those with severe all-night snoring problems can also check Zquiet-anti-snoring mouthpiece, which helps to deal with this embarrassing issue.
Are Flight Path Golf Tees Legal?
These golf tees undergo rigorous testing ro check if they comply with rules and standards set by organizations such as the United States Golf Association and the like.
Golf amateurs and professionals use them comfortably in different tournaments without being disqualified or penalized.
Even Maurice Allen used the Flightpath tee during the 2018 Volvik World Long Drive Champion; he dominated the competition and became the champion.
However, checking with particular tournaments, which may impose some rules regarding using specific equipment, is better.
Final Thoughts.
Let us conclude the Flight Path golf tees review; the fact that famous players such as Maurice Allen use these innovative tools to win competitions proves their priceless value.
The FlightPath tees' aerodynamics design reduces drag to give your balls a cleaner flight path at a greater distance off the tee.
Besides, durable polymer materials make these outstanding gold products durable; they are also environmentally friendly.
That's all that can tell about what a Flight Path golf tee is and how it works; we wish you good competition and success.