Last Updated on November 22, 2023 by Emmanuel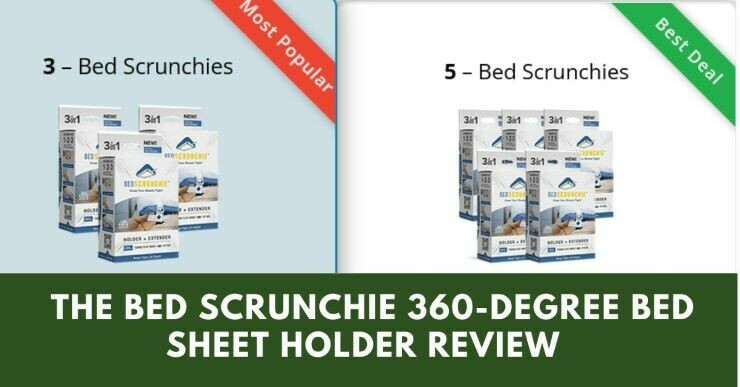 The 360 Degree Bed Scrunchie Sheet Holder is a suitable solution to sheets that often come loose from the mattress when we sleep to prevent us from a peaceful night's sleep.
Thus, we thoroughly examine the Bed Scrunchie's features and how these accessories perform reliably to keep your sheets in place when slipping.
Besides, other helpful information, such as the Bed Scrunchie 360-Degree Bed Sheet Holder pricing packs, compatibility with different bed sizes, and where to buy these accessories affordably, will determine if they are worth it.
What Is the Bed Scrunchie 360-Degree Bed Sheet Holder?
Jack Nekhala invented the Bed Scrunchie after many insomnia nights caused by sheets that didn't fit properly on his bed for a soothing sleep.
He struggled to tie his sheets on his mattress, but the results were still disappointing; they always slipped in his sleep.
Driven by the need for a better quality of sleep for himself and many others, Jack decided to find an appropriate solution.
It is how the Bed Scrunchie brand was born as a designer of revolutionary sheet holders offering comfort at bedtime.
For many, this brand is a savior for restless sleep thanks to its sheet holder accessories' comfort and convenience.
You no longer sleep with messy sheets that slip at the slightest movement to cause nightmares; these accessories make your nights a true haven of peace.
They are as sturdy as soft to hold your sheets in the perfect balance for that well-deserved restful night.
In the next section, we look at the features of Bed Scrunchie holders and why many have made them their favorites.
The Bed Scrunchie Sheet Holder Features.
Hotel-Tight Sheets.
The frustration of messy and unruly sheets while you sleep is a thing of the past because Bed Scrunchie bed accessories do it all wonderfully.
This luxury accessory perfectly holds your sheets in place as if using high-end bedding in a luxury hotel.
You benefit from an impeccable night's sleep so you wake up each morning well-refreshed and go about your business more conveniently.
360° Support.
The Bed Scrunchie's ingenious 360-degree handle curls sheets that refuse to stay in place seamlessly tuck them into your bedding from every angle.
It's as if you had a personal bodyguard in your bedroom, looking to monitor and contain anything that could disrupt a peaceful night's sleep.
The 360-degree Bed Scrunchie ensures that your sheets stay firm without moving an inch from slipping into bed until you wake up.
People in the US and globally use the Stay Safe 5 1 fire extinguisher to fight against the flames suddenly rising indoors and outdoors.
Converts Flat to Fitted Sheets.
Suitably, the Bed Scrunchie touch transforms your bedding into a tailored appearance to let your bed look comfortable and sophisticated.
Its harmonious transformation qualitatively retouches your bed and improves its overall aesthetic appeal.
Whether you have a single or king-size bed, the Bed Scrunchie sheet holders perfectly adapt to them in all dimensions and sizes.
Adjust the accessories to your beds to stabilize the placement of your sheets on the mattresses in your bedroom, those of your children, or any other.
Ease of Installation and Use.
Installing the Bed Scrunchie can be done without specific tools or skills if you follow the designer's directions to wrap the rubber bands around the mattress' corners.
Indeed, Jack recommends laying the fitted sheet on your bed, the elastic side facing up, before attaching and shaping the clips.
When done, pause your sheet over the mattress as you typically do without stressing yourself; the process is straightforward.
Then fasten the drawcord for a snug fit to hold the sheet perfectly and sleep well without interrupted sleep as you used to.
Fixing this accessory for the first time typically takes up to ten minutes without fearing breaking your broken nails or suffering from aching back.
The more you get used to it, the more the attaching time can decrease by up to five minutes or a bit less; your sheets tuck until you remove them for wash.
Where to Buy the Bed Scrunchie 360-Degree Bed Sheet Holder Packs?
This products' provider has an online store listing the bed scrunchies, bathrobes, sheets, pillowcases, and other items like extra clips and towels.
Buying from the supplier's online store ensures you get original items affordably, specifically that they offer regular deals, enabling many to access their offerings.
Customers get a one hundred-night risk-free return guarantee to make the most out of these items, whch proves how the supplier trusts its products.
Whether you pull, turn, or twist your bed sheets, they always stay tight without wrinkling, so you can purchase them with peace of mind.
Jack Nekhala has designed these sheet holders to use them differently and still enjoy good, restful sleep nights.
One Bed Scrunchie costs $45, three pieces cost $99.98, and five-pack items cost $149.97. We tried to determine if they offer 8pc bed bag comforter luxury bedding set sheets.
The Bed Scrunchie Sheet Holder Pros and Cons.
Pros:
The bed scrunchie holds your sheets tightly without slipping, loosening, or bunching throughout the night to enjoy a comfortable sleep.
These accessories' 360-degree design comfortably fits all beds and mattress sizes.
Their use does not require specific skills or tools; ten minutes for the first time and five afterward are enough to fit it into your mattress.
With these accessories, your bed looks like you are sleeping in a hotel, as seen in the photo on this page.
Cons:
Adjusting these accessories for the first time requires trial and error to correctly fit your bed's shapes.
Furthermore, people on small budgets can find the bed scrunchie expensive despite being essential for their bedrooms.
Note:
Those experiencing snoring at night can use the ZQuiet mouthpiece device, which helps treat this embarrassing issue efficiently.
What Do Users Say About the Bed Scrunchie Products?
Effectively keeping the sheets secure prevents them from slipping or coming loose throughout the night, which many users appreciate.
These accessories turn flat sheets into fitted ones to make your bed look more polished and hotel-like.
Using the Bed Scrunchie is also straightforward; although it may take more time for the first time, you get used to it quickly.
The Bed Scrunchie Final Thoughts.
Let's end the Bed Scrunchie 360-degree bed sheet holder review; we hope this article's thorough information is helpful.
These accessories tuck your sheets and taut them in the mattress so they don't slip while making your bedroom look more attractive.