Last Updated on November 14, 2023 by Emmanuel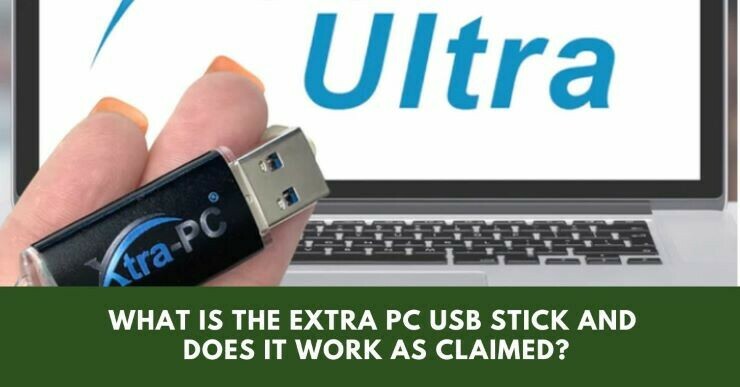 So you wonder if the Xtra-PC device can turn an outdated PC into a new one, as inventors promise the drive increases old computers' speed and functionality.
We reveal the Xtra PC USB stick, its features, and why they can enhance your computer's performance despite the time you have used it or its age.
Discussing other helpful information about this USB drive, including its options, the cost and where to purchase it, etc., will also aid in deciding if the tool is worth it.
What Is the Extra PC USB Stick?
Mark and his son Adams invented the Xtra PC USB drive after realizing millions were throwing away their computers after a few years of use due to minor malfunctions.
For them, the new technology could help solve these simple problems that cause many to get rid of their computers and buy new ones, often at exorbitant prices.
Both tech gurus decided to develop a simple-to-use but powerful USB drive that helps obsolete or broken computer owners continue using these essentials rather than throwing them away.
They empowered the Xtra-PC tool to transform old, compromised, or unused PCs and laptops to give them a new life's lease.
With Xtra-PC, you no longer need to throw away your old computers unnecessarily; you can still use these materials efficiently for a few more years.
Mark and Adam only require you to use their innovative USB drives per their directions to get the most out of the drives. Both inventors work from Colorado, but their devices are available worldwide.
Those suffering from stress, anxiety, and sleep problems can also check the Chill Pill handheld device, which helps to alleviate them.
How Does the Extra PC USB Stick Work?
The Xtra-PC Ultra USB device effectively transforms your outdated computers as if they were new, but you must follow Mark and Son's instructions word for word.
First, check that your computer has a Mac or Windows operating system for the drive to work correctly.
You must then plug in your Xtra-PC Ultra device and look for the Xtra-PC Ultra drive.
When you find the StartUsingXtraPC.exe system, click below to start the StartUsingXtraPC application.
Don't worry about being confused because the Xtra-PC Ultra computer boosting tool is straightforward, even for non-computers or tech-savvy.
Mark and Adam referred to the Linux operating system to develop Xtra PC USB, which bypasses the often slow Windows or Mac.
Most importantly, the Xtra-PC Ultra system does not modify your old files because it runs on a USB stick; you can access them anytime.
Your old Mac or Windows computer continues to store your valuable audio, music, text files, and photos for future use.
Where to Buy the Extra PC USB Stick?
Mark and Adam offer their tool for increasing computer performance through their online store, accessible via the link at the end of this section.
However, other online and offline suppliers offer this USB device as long as you know where to find the original at the manufacturer's price.
The Xtra-PC Ultra USB peripheral has three versions for everyone to choose from, which can best increase their outdated computers' performance.
With Xtra-PC Ultra 16 GB, you get fast speed to effectively watch videos, play various online games, and have quick internet access.
Those needing more internet surfing capacity and storage choose Xtra-PC Ultra Xtra-PC Ultra 32GB faster than the previous option.
While the 64GB option is four times faster and stores more data than 16GB or double 32GB, this option also includes FileRez Software.
Perimeter 81 also offers outstanding services to increase businesses' and organizations' network security systems, making it many favorites.
How Much Does an Xtra PC USB Drive Cost?
The price varies by the USB stick capacity; the 16 GB one costs $34.99, while 32 GB and GB cost $59.88 and $79.88, respectively.
Mark and Son ships throughout the United States and worldwide, except Africa, South and Central America, and a few other countries.
You will receive your package by DHL Global Mail in a few days, but some countries may experience slight delivery delays.
In an email confirming your order, you will find a link to track your package from when they send the devices until they reach you.
Besides, your country may charge you extra fees depending on its customs regulations, but they will be minimal given these items' value.
A thirty-day money-back guarantee also covers your Xtra-PC devices; return them within this period for exchange or refund if unsatisfied.
The supplier will show you the process for returning your order and refund you as soon as possible.
The Extra PC USB Stick Pros and Cons.
Pros:
Xtra-PC devices are suitable alternatives for users looking to improve their computers' performance without investing in new ones.
These USB drives adapt conveniently to different Windows and Mac operating systems.
The Xtra-PC USB's portability lets anyone use them anywhere to improve multiple computers' performance.
Xtra-PC stick does not permanently change your computer's operating system; you can return to its original configuration anytime.
User testimonials show that these tools significantly improve the speed and performance of PCs and laptops.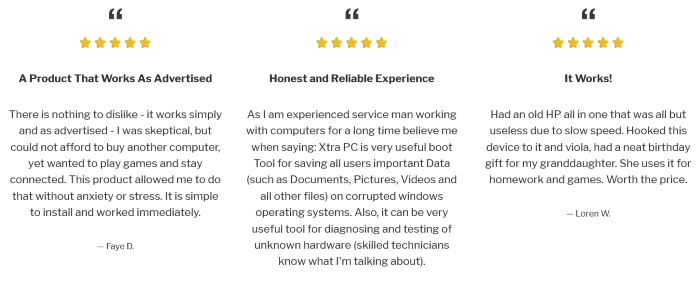 Cons:
The Extra PC USB drive's effectiveness can vary from host computer conditions, and the drives are only compatible with Windows and Mac operating systems.
Users in African countries and some Central and South Americans cannot obtain this tool while they might significantly need it.
On the other hand, the LifeVac anti-choking device saves many children's and adults' lives, making the gadget worth checking.
What Users Say About the Extra PC USB Stick?
Users praise how the Extra PC USB drives bring old computers back to life by increasing their performance so they don't invest in purchasing new ones.
USB Extra PC sticks circumvent outdated hardware limitations, making them cost-effective alternatives to buying new computers you don't wish to.
With these USB devices, you speed up your old PCs and laptops by enhancing their slow systems to become responsive powerhouses.
Besides, many appreciate the Extra PC USB sticks's compatibility with Windows and Mac systems featured in most computers.
The Extra PC USB Final Thoughts
Many Obsolete computer owners globally leverage the Xtra-PC devices to breathe new lives into their old materials.
Excellent testimonies praise how the Xtra USB drive revitalizes perfectly obsolete PCs and laptops into rejuvenated machines.
Compatibility with various operating systems and bypassing hardware limitations breathe computers new life to extend their use.
However, the supplier still has the challenge of making the Xtra-PC device available in certain countries where people still use old computer equipment; it will help if these people can also access the device.
That's all we can tell about whether can the Xtra-PC device turn an outdated PC into a new one; we wish you a happy use.